adrian paul, adrian paul pictures, adrian paul movies, adrian paul highlander, adrian paul duncan macleod, duncan macleod, highlander, highlander tv show, highlander tv series, adrain paul, adrian paul wallpapers,



Gathering of Friends 3
July 15-19, 2004
Albuquerque. New Mexico
Adrian....wish you were here
!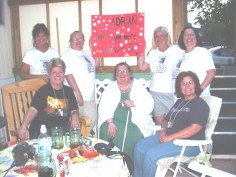 From left back row: Elaine, Linda, Debbie, Gail
Front row: GNU, Donna, Vangie
Linda A, Riley, Elaine

We stopped laughing long enough to

take this! Barely...

Debbie S enjoyed her Quickening!

Gail, Linda A and Elaine enjoying the

Goody Bag stuff!

We already wore out one Gathering attendee! LOL




Tacos anyone?

Gail, Elaine, Linda and Debbie

"The Mad Hatters"

Gathering moment anyone?

Gail, Debbie, Elaine and Linda

Riley knew where she was going,

but we didn't!

For once no one is shooting off their mouth! LOL

Hats R-us!

GNU finally has had enough of Gail's puns and takes her own head!

Just outside the fabulous Loretto Chapel

Angels??? I think not! Devils maybe!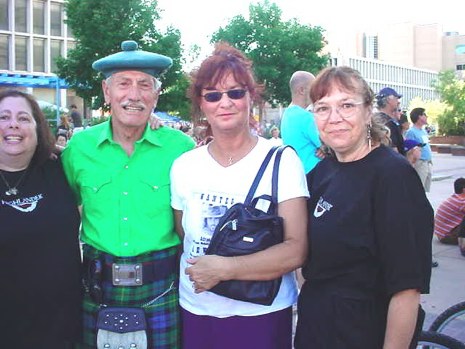 Gail, Victor, Elaine and Riley posed with the MacLeod. Ok...an "older" MacLeod." LOL Not as handsome...but a MacLeod!
The Lorretto Stairs

At the base of the Tram area..overlooking Albuquerque.

Under the Sandia Tram

The littlest Piper!

Look at those pairs of legs!

Many thanks to Margaret's sister for getting us behind the scenes!

GNU and our POKi, Kollette

(Princess Off-Kilter)

Amazing Grace

(Yes, we cried!)

In Honor of all victims of violence and terrorism..

may we all know Peace one day.

This dedication is located in Madrid, NM

Downtown Cerrillos, featured in Young Guns I & II and Vampires.

What happens in NM..stays in New Mexico.. LOL


Don't miss the fun! Join our E-group...
All rights reserved 2001-2013
Site designed and maintained by Rileah Ringo