(Graphic intensive, please be patient for pictures to load)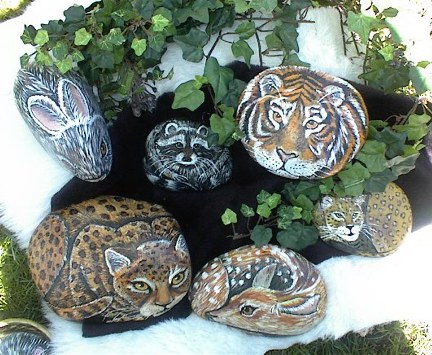 These are just samples of some of the critters I have painted.
Wild animals seem to take more time, more detail, more complex.
I also paint snakes, turtles, and other crawly things, as well as
Lions, Tigers, Lizards, Cougars and Wolves.
Let's face it, I'll try to paint anything once!

Click on Thumbnail below to see larger version!

Please remember that each stone is different,
so no guarantees are made that I can find a
stone exactly as shown.
All "Purr-fect Pets" are coated with a Satin varnish.
Not recommended for outdoor use unless specifically requested!


Every attempt was made to obtain permission to use all graphics, wavs, midis, gifs, etc.
utilized on this site. If I have "purr-loined" a copyrighted item unintentionally, please notify
me immediately and it will be removed.
Web page designed and maintained by Rileah Ringo
Copyright 2001-2012
"Purr-fect Pets," Amazing Potato Bag" and all other artwork and design remain the sole intellectual and creative copyright of Ringo Design and Rileah Ringo