Highlander Dream
I dreamt I was falling
So scared was I
I screamed and cried
As I came out of the sky
I landed on heather
There was silence around
Then I heard footsteps
A tentative noise
"Are you hurting,my lady?"
Said a warm Scottish voice
I looked round to see
A vision to behold
Tall and muscular
Hmm not too old
Long dark hair
"Here, let me help"
I rose thru the air
As he lifted me
Concern on his face
I answered "not really"
"I'm sure I'm all right"
"Good", he answered smiling
"Sweetheart, goodnite"!
(copyright Sandra Broome 2001)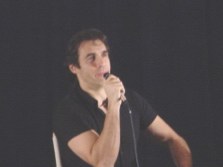 The Meeting
My heart is beating way too fast
My mouth is really dry
I cannot breathe; my legs are weak,
I think I'm going to cry!
The queue moves on, we're closer now,
it's almost time for us to meet
My God, I'm standing in front of you,
you look good enough to eat!
I tell myself to speak, say something you fool!
You look up; I look into your eyes.
You sign your name, say a few words,
I have not heard a word, I realize!
My eyes are open so wide, I'm acting so inane
I'm shaking so much, I really must look insane!
I manage to say,"Thanks so much for Highlander,
I enjoyed each and every scene".
You smile and say,"you're welcome, glad you liked it".
I'm sure I am in a dream!
It's time to move on now, I will my legs to move!
Thanks to you, Adrian Paul, you really made my day!
(copyright Sandra Broome 1999)
(Elaine wrote this waiting on Endgame to be released........)
Adrian, oh Adrian
we 'lovingly' call you "TAO"
Seems like we have been waiting 'forever'
for this movie---this show!
The 'soul-deep' evil
that mankind tries to hide,
can be conquered by 'one'
with the other by his side!
Connor and Duncan--though not brothers--
MacLeods they both be.
Shall stand against this evil--
now and for an eternity.
With swords in hand,
their strength and skill put to the test.
Who will lost their head?
Who will be the best?
The two together,
united as one
will meet the challenge,
the fight has just begun.
The Highlanders secrets
are all found with the past.
Face them they must--for the present, for the future,
for "redemption" at last!
From this past comes a woman,
who once held Duncan's heart.
The watchers, Joe and Methos,
each play a part.
"In the end there can be only one"
Is the rule of the game.
But the 'spoilers' all tell us, "the rules have changed!"
We wait and we wonder--have they changed? Are they the same?
The two joined as one,
like day and night will always stay.
This gives us hope for the future--
For a better day!
About this movie--
I know deep in my heart,
For you Adrian Paul,
it is just a GREAT start!
Highlander-Endgame will undoubtedly
show the world what you are,
But to all of us 'adoring women', we have always known
you are our BRIGHT SHINING STAR!
August 2000
(copyright Elaine Lee Walch)