Despite the fact that some people seem to believe that Adrian isn't up to much these days, he's had a very eventful summer and early fall.
In July, Adrian flew to Guadalupe to make an appearance on behalf of the Association of Autistic Children of Guadalupe. He signed autographs in the local mall as well as at the hotel where he stayed. Guadalupe was devastated by hurricanes a few years ago, and Adrian's presence also helped to promote tourism in the area. It wasn't all work, though. Adrian was able to enjoy the beautiful beaches and surf. Wherever he went, he was warmly welcomed by the local residents.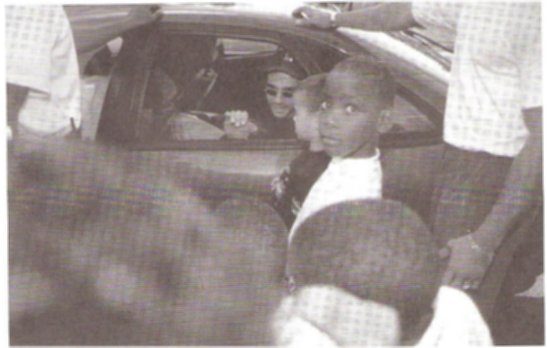 After returning from his Guadalupe adventure, Adrian got back into the swing of things in Los Angeles. Never one to turn down an invitation to a good martial arts film, Adrian attended the premiere of "Rush Hour" starring Jackie Chan and Chris Tucker. From all reports, Adrian had a great time.

Always eager to lend a helping hand to a great cause, Adrian participated in and emceed "Shaqtacular III", an annual event sponsored by Athletes and Entertainers for Kids and basketball player Shaquille O'Neal. The event, held September 19th at Universal Studios Hollywood, featured a competition in which teams of under-priviledged children from various neighborhoods, youth centers, and organizations participated in sports and games.
The children earned the right to participate in this event by improving their grades, maintaining perfect attendance at school and/or staying out of gangs. Celebrities from film, music, television, and sports supported the kids as team captains, coaches, or playmates. Kevin Sorbo, Bruce Jenner, Pete Rose, Mark Curry, Kristoff St. John, Leeza Gibbons, Sheila E, Arthel Neville, Dawnn Lewis, Kareem Abdul Jabar, Anna Maria Horsford, Tommy Davidson, and many more took part in the festivities.
Aside from participating in the team sporting events, the children could play one of the many arcade games, eat food provided by Haagen-Dazs, Taco Bell, Pepsi-Cola, Frito Lay, The Cheesecake Factory, Koo Koo Roo, and several local restaurants, work out with the tae-bo creator Billy Blanks, and watch a boxing match between the 352 lb. Shaquille O'Neal and the 103 lb. comedian Tommy Davidson. For Adrian's part, he welcomed everyone to the opening ceremonies, kept the excitement level high while announcing various events throughout the afternoon, and, finally, helped to bring the day to a close by emceeing the award presentation and closing ceremonies. A terrific time was had by all, particularly by the children. After all, that's what it's all about. (See photo collage on Page 6)
By the time that you receive this newsletter, Adrian will have just attended the Gathering IV Highlander convention. The convention will be held October 16-18 in Denver Colorado. Other guests set to appear at the convention include Stan Kirsch, Jim Byrnes and the Jim Byrnes Band, James Horan, and Peter Hudson. If you have a convention story and/or photos from the event, please send those to the European branch of PEACE for inclusion in the next newsletter.